This bridge marks the third Bridges to Prosperity project completed with the municipal government of Esquipulas, Nicaragua. The bridge serves the community of Cinta Verde by allowing safe crossing over a river gorge that spans more than 40 meters. Rising river levels during the rainy season formerly isolated community members, making travel to nearby Esquipulas and the surrounding areas dangerous if not impossible. As such, the residents of Cinta Verde frequently lacked access to health care, education, commerce, and other services that contribute to greater personal health and wellbeing.
Location of the river's greatest depth during the annual rainy season:

This bridge is vital to the safety of children attending the primary school within the community. These students no longer need to take the risk of walking through the river daily. This surely helps students receive more consistent teaching. In our time at Cinta Verde, schoolteachers distributed de-worming medicine to the students, demonstrating the need for year-round access to the schoolhouse.
Local primary school: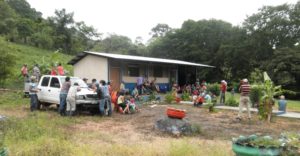 We hope that our efforts will help facilitate the continued prosperity of Cinta Verde. As this community grows, we hope that more children will graduate from primary schools, adults can sustain external employment, fewer residents will suffer from treatable ailments, and poverty will no longer burden families.