This bridge is the seventh that the University of Iowa has helped implement. It serves the community of Matapalo, which is located close to the city of Pueblo Nuevo in the Estelí department. Multiple rivers pass through this community, and bridge aids the population on the western part of Matapalo. It is located to allow safe crossing to the main road passing through the community, where the local primary school, shop, and financial co-op are located. In addition, community members may use this road to reach nearby hospitals, secondary schools, markets, and other resources available in Pueblo Nuevo.
Views of Matapalo:
Map of Mata Palo: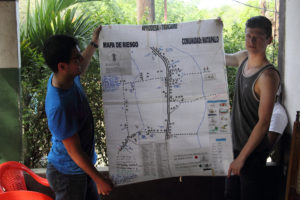 The community's bridge facilitates the safe crossing of hundreds during the rainy season. Community members no longer need to risk their safety in order to travel throughout the community. This provides access to healthcare, education, and local markets throughout the year. The bridge allows many community members to grow away from the negative effects of rural isolation.
The river basin:
Our partnership with the community of Matapalo has provided incredible opportunities to widen our perspective as responsible engineers and world citizens. The relationships we built have promoted our personal growth. And, the memories we made have left an indelible mark. We thank the members of Matapalo for welcoming us with open arms as we helped build their bridge to prosperity.